Boquete Panama Living
Boquete Panama Living lets us get a real feel for life in Boquete. Our month here is long enough to establish some routines and to sample attractions that appeal to both tourists and residents. Here's what we have found so far.
Where We Wal
k
Since we decided to not have a car while here in Boquete, we walk everywhere we go around town. This is our daily exercise, and we also use our walks to go to meals, do our shopping, and get out to take pictures for our blog. We are here in Boquete, during October, the most rainy month of the year. We've noticed that most mornings are nice with at least some sunshine, and that most afternoons are overcast and likely to rain. We try to time our walks accordingly. We have walked on almost every street in Boquete proper. Some have sidewalks, especially downtown, but otherwise, we have to watch our step. Streets can be narrow, and roads throughout Latin America are for vehicles, not pedestrians.
One day we decided to walk to Valle Escondido, an expat development that we had read about for many years. We asked the guard at the gate if it was O.K. to walk around the property and take some pictures, and he said, "Sure, no problem." The road through the property is nicely landscaped, with a stream, Quebrada Grande flowing alongside.
The golf course winds along on one side of the road, then on the other. There are condos, town homes, and houses overlooking the golf course, as well. Prices here have come down a little from the highs of 2008, but still reflect local demand, exclusiveness of the community and the amenities provided, which include security, two restaurants, spa, fitness center, swimming pools, and a Country Club. We'll walk around and explore more of Valle Escondido later, including the restaurants and other facilities.
For longer trips, or when it rains, there are taxis in abundance all over town. There are buses and shuttles to major towns and cities, including David (45 minutes), Bocas del Toro (4 hours), and Panama City (5-6 hours.)
Coffee Plantation Tour
There was a mix-up on the day we were scheduled to visit one of the coffee plantations. Everyone else was schedule for an eight o'clock start, but we were scheduled to go at nine. So, we went the next day. No problem.
Mr. Tito's farm was across the river and up the hill from Boquete at the ideal elevation for growing coffee. He has been working on the farm for over 30 years, and has built many of the machines for processing the coffee himself. In fact, he earned the nick name of, "The MacGyver of Boquete." Many of the parts for machines were taken from a Suzuki vehicle, the remains of which we found on the property.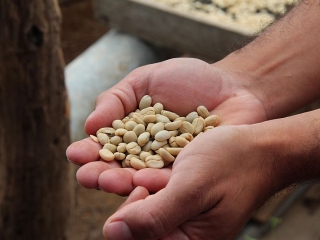 Our tour guide led the way as he explained that there are twelve different types of arabica coffee, and seven are grown on this farm. In addition, a specialty coffee, Geisha is grown here. Geisha commands a high price. Some sold recently for $350/lb.
The tall trees on the property protect the coffee trees from wind, rather than provide shade as on other coffee plantations. Not only is the farm at the ideal elevation, but the Boquete area has the ideal temperature range of 15 – 30 degrees Celsius for growing coffee, thus no need for shade. Two geese sounded the alarm when we approached their area. Chickens also roamed freely. The citrus and banana trees, along with the free-range fowl throughout the farm provide food for local use and are not part of the commercial crop.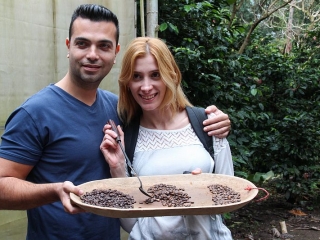 After touring the coffee trees, and the drying racks, we headed into the main farm building. Here the coffee berries are processed to remove the beans. Inside each berry is one, two or three beans. Two beans are most common, but single beans, called pea-berries, are sometimes sorted out to produce a premium roast. Beans are dried for three weeks. Beans go through a fermentation process to remove the meniscus membrane and are sorted for grade. Curing for three months follows, before sorting for size and color. At this point, most beans are sold and shipped from this farm. Roasting for light, medium, or dark roast is the next step, and finally, most is ground before packaging for sale.
Mr. Tito keeps a small amount of beans to process further. He only produces medium roast, which he offers for sale in ground or whole bean varieties at his farm. We bought two one-pound bags.
Where We Shop
Romero was the first place we shopped. It is a modern grocery store and had everything we needed for our small apartment kitchen. However, when we needed a plunger, the folks at Romero sent us to Mandarin over on the main street. Mandarin has a similar inventory of foodstuffs as Romero, but has a much wider variety of sundries and hardware (like plungers.)
For fresh-out-of-the-garden fruits and vegetables, the Mercado Municipal is the place to go. It is near central park and across the street from Romero. Inside are small booths, each displaying their goods. Most items are sold by the weight for very reasonable prices.
Next Time: David Panama Tour and Where We Dine
The following two tabs change content below.
George grew up in the central San Joaquin Valley of California, and after high school, joined the US Navy. The Navy provided travel and education, including a degree from Purdue University. He left the Navy after 14 years to pursue other opportunities and worked in San Diego, California for 29 years for an industrial gas turbine manufacturer in New Product Development until retiring in 2008. George spends his time photographing and documenting his travels.
Latest posts by George Escola (see all)