Boquete Panama
Boquete Panama beautiful green mountain valley town with spring-like weather year-round known as an expat haven and for it's coffee growing. Founded in 1911, it now has a population of about 17,000. Main industries are tourism and coffee.
Bocas del Toro to Boquete
Isla Colon is where our flight touched down on our way from Costa Rica to Boquete. The Nature Air flight was interesting as we flew above scattered clouds through a mountain pass and down to the Caribbean and Isla Colon. A short taxi ride took us Bocas Marine Tours and the water taxi that was to get us to the mainland at Almirante. A shuttle would take us from there to Boquete. The water taxi ride was fairly smooth as we made the high-speed crossing in open water and then slowed for the trip up the channel.
We docked and several young men elbowed their way in to handle our bags. The one who got the job tried to take all our bags at once and headed out to the shuttle. Once the bags were loaded, he held out his hand for a tip, and we suddenly realized what the elbowing was all about. Anyway, the bags were handled quickly and we didn't mind giving the young man his tip.
The driver started out as soon as everyone was aboard. We moved through the town and were soon traveling parallel to the shoreline toward the south. After several miles we started to climb slowly and got a little further from the shore. Then the bus turned right and we started to climb in earnest. And, the turns became sharper and more often. Left, right, left, right. The driver seemed determine to stay on schedule as he aggressively attacked each corner at maximum speed. All we could do was get as comfortably braced as possible and try to enjoy  the scenery. It was beautiful country with green mountains, and streams flowing here and there along the way. Finally, the bus headed down the mountain, the curves got further apart and not so sharp. A couple of right turns later, we headed up the mountain to Boquete.
Our Boquete Apartment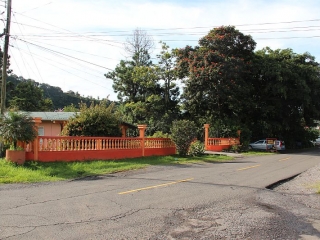 It was raining when the shuttle pulled up to the curb in front of Hostel Mamallena. We gathered our baggage as it came off, and looked around trying to find landmarks. None matched the ones we had been told to follow to find the apartment we had rented. We asked at the desk in Mamallena's and were told that the police station was on the next street over. We set out in that direction and after about three blocks, we spotted the two-toned orange fence where the apartment was. The young man in the front apartment said that Cristina was working, but he would let us in. A quick look around and then, with the key we went back to Mamallena's to get our baggage. We grabbed a nearby  taxi driver to help with our bags and piled in for the ride to the apartment.
Once inside, we realized how small it was. One overstuffed chair, a small table and two stools in the first room. With a refrigerator, a small counter area, a few shelves, dishes, and a one-burner heating plate, but no sink or water faucet. Down a short hall was the bathroom, best described as compact – sink, toilet, and shower. Further down a bedroom, also compact, with a double bed, TV and a walk-in closet. This was going to be a challenge to make this work for a month! Jan was tired from our long trip and went to bed, while I went out in search of dinner.
I found the Boquete Fish House just over a block away and had a great meal of red snapper. This turned out to be our favorite place for dinner, although Boquete has many high quality dinner houses. The next day we met Cristina and shared our misgivings about the apartment. She graciously offered to show us another apartment, that while about the same size, was laid out in a more usable way, and did have a sink with running water in the kitchen! A second comfortable chair was added to complete requirements.
Shopping and Dining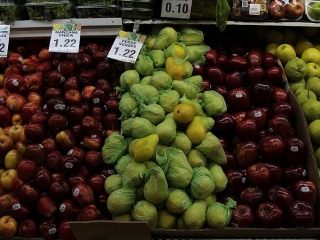 Our initial search for groceries led to Romero. It is near the central park and has a good selection of groceries, meats and sundries. One of the first needs we had was for a plunger. A search at Romero came up short and when we asked an employee he asked his boss who said "Mandarin." We had no idea where or what Mandarin was, but later we asked some expats and they explained that Mandarin was another grocery store on Main Street that carries a wider variety of things. Later, we went to Mandarin and bought the needed plunger. The Central Mercado near Central Park carries fresh fruits and vegetables right out of the garden, and between Romero and Mandarin we could find most anything we needed.
The toughest thing about dining in Boquete is deciding where to go. Sometimes our decision was driven by the weather, since October is the month with the most rain. We found several restaurants that seemed to be favored by expats. The Boquete Fish House attracts expats on Friday nights. The food, every time we went there was excellent and Friday is happy hour with half-priced drinks.
A favorite for lunch was Las Orquideas (The Orchids). The first time we ate there we had big bowls of soup with beverages, and it was only $3.50 for both of us. A regular hot meal (meat, rice, beans, and salad) with a beverage usually cost us $4.00 each. More on dining in Boquete later.
The following two tabs change content below.
George grew up in the central San Joaquin Valley of California, and after high school, joined the US Navy. The Navy provided travel and education, including a degree from Purdue University. He left the Navy after 14 years to pursue other opportunities and worked in San Diego, California for 29 years for an industrial gas turbine manufacturer in New Product Development until retiring in 2008. George spends his time photographing and documenting his travels.
Latest posts by George Escola (see all)