TSA, after all, is still TSA.  We were just glad to be through the screening and on our way to the plane.  Thankfully, that's all of the TSA screenings until we return to the USA in November. Our American Airline flight through Dallas to Belize was uneventful and that's just the way we like it.
We had a couple of days at the Princess Hotel Casino in Belize City where we met with our attorney one day and got our questions answered about the residency program that we have applied for.  A ride on Tropic Air took us to Corozal at the north edge of Belize on the Bay of Chetumal.
Our Ride To Corozal Belize
Our time in Corozal at the Las Palmas Hotel was a nice change from the somewhat hectic schedule we had been following. Corozal is really, really laid back. Nothing moves very fast here. We walked some and ate some and slept some and worked on our computers some. Our heart rates are down; we're starting to relax and enjoy ourselves, and we're sleeping much better.
Las Palmas Hotel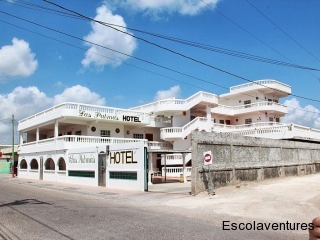 And then it was time to move on to Playa del Carmen and the International Living Ultimate Event. We traveled by car with our driver, Eddie across the Belize/Mexico border to the bus station in Chetumal, Mexico. There, we caught a luxury bus to Playa Del Carmen, and a short cab ride took us to our hotel.
The Fairmont Mayakoba is the ultimate in luxury and convenience. Every need is anticipated and provided. And, what a setting! The water in the canals accentuates the buildings and the swimming pools with flowering plants, bushes and trees everywhere. Golf carts take us around the expansive hotel grounds from the main building, where the lobby and conference center is, to the La Laguna pool and restaurant, and on to the beach and the Las Brisas dinner house. Our accommodation is in a four-plex tucked into the rain forest just off the golf cart path, and is probably larger than the efficiency apartment we are renting in San Elena, Belize for the month of June.
The International Living conference started Tuesday afternoon, and we'll have more to say about it next time and pictures of the hotel grounds, as well.
(Originally published by Email as: Blog #2 052113 We're Not In Kansas Anymore)
The following two tabs change content below.
George grew up in the central San Joaquin Valley of California, and after high school, joined the US Navy. The Navy provided travel and education, including a degree from Purdue University. He left the Navy after 14 years to pursue other opportunities and worked in San Diego, California for 29 years for an industrial gas turbine manufacturer in New Product Development until retiring in 2008. George spends his time photographing and documenting his travels.
Latest posts by George Escola (see all)