Costa Rica Driver Licenses and Our Cost of Living
Costa Rica driver licenses and our cost of living is about the process we had to go through to get driver licenses in Costa Rica and what it is costing us to live in Atenas.
Costa Rica Driver Licenses
We gathered our things to get off the local bus to San Jose as it came to its stop on route 1 near Hospital Mexico. We would now go by taxi to COSEVI, Uruca. Our Property Manager, Diane agreed to guide us through the process of getting our driver licenses. Her friend, Carol came along to get her license, as well. The taxi dropped us at COSEVI, and we walked further down the street to an Authorized Medical Doctor to get the required physical. The physical was routine, consisting of weight, height, a vision test, and some questions to determine alertness. After paying the fee we were given a small piece of paper with our name, cedula number and a code number to our medical record on line. We also got copies of some of our documentation, because two copies of each document was required at our next stop.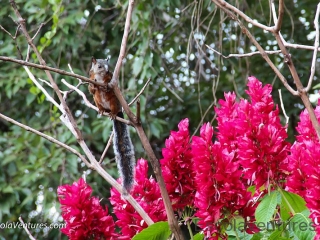 From the medical office we proceeded back to the COVESI compound and were directed by signs to a building in the back. Here, we were sent to wait in line to go upstairs, while Diane had to wait outside. The line wasn't very long, and after a few minutes, Carol and Jan were sent upstairs. After about 20 minutes, they came back down. They explained that we could not complete the process that day, because we had not been in-country continuously for more that three months. We had heard of this restriction from a few people, but others said it was not a requirement. All one can do is to go with the best recommendations and be flexible enough to be redirected as necessary to complete the task. So, we were happy to have accomplished what we did, and would return another day to complete getting our licenses.
On the second day beyond completion of three months in-country, we went back to COSEVI to complete getting our Costa Rica drivers licenses. This time the line was even shorter, so we were soon sent upstairs where one lady in an office processed everyone's paperwork and entered information into the computer. This process took about five minutes per person. Back at a cubical downstairs, the computer input of data was soon completed. We were then told to pay for the licenses, and no, we would not need any paperwork, only our residency cards. So, off we went back across the compound to the bank where we were met by a guard. We tried to explain what we needed, but all we got was that the bank was closed. Fortunately, a man standing nearby jumped in to help. After some discussion with him in English and some conversation with the guard in Spanish, they decided that we needed to go to the cashier near the front gate. This turned out to be correct and there was even a sign out front that listed payment for first-time licenses as one of the things handled by the cashier. With receipts in hand, we returned to the far end of the compound.
We got our picture taken, signed our name on one glass plate, and put our first finger fingerprint on another glass plate. Some whirring of the machine behind the camera, and we were proud owners of our Costa Rica driver licenses.
Our Cost of Living in Atenas, Costa Rica
Before arriving in Costa Rica, we rented a furnished house on a three month lease, sight unseen. We knew that it would be three to six months before our residency would be approved. Our thinking was that once we had our residency, we would find a more permanent place either to buy or on a long-term lease for less rent. So, after we had our cedulas, we started looking around and soon determined that two bedroom, two bath furnished places near Atenas run in the $700 per month range. It ended with two places in the running at the same monthly rent. While one had more amenities, but we liked the location of the other one, and it was the one we were already in. With the new monthly rent on a twelve month lease, our monthly costs have settled down, and finally in September, we took a reading on our monthly costs. The costs in the table below should be pretty close to our Costa Rica living costs from now on until we move to a different place.
| Expense | Cost | Expense | Cost |
| --- | --- | --- | --- |
| Bank Charges | 105.30 | Rent | $700.00 |
| Clothing | $6.82 | Telephone | $42.14 |
| Dining | $106.33 | Transportation | $3.79 |
| Groceries | $483.35 | Utilities | $154.71 |
| Household | $5.21 | Total August Cost | $1,718.67 |
| Medical | $111.02 | | |
We will note that costs in the above table do not include those for US health insurance, which we plan to cancel at the end of this year, nor does it include storage of goods in Nevada, nor life insurance and other costs remaining from our previous stateside residency. In addition, we only traveled locally this month by walking, bus and taxi.
The following two tabs change content below.
George grew up in the central San Joaquin Valley of California, and after high school, joined the US Navy. The Navy provided travel and education, including a degree from Purdue University. He left the Navy after 14 years to pursue other opportunities and worked in San Diego, California for 29 years for an industrial gas turbine manufacturer in New Product Development until retiring in 2008. George spends his time photographing and documenting his travels.
Latest posts by George Escola (see all)