Downsizing to Suitcases, Part 2 is about the decision process and work we went through to get our possessions into suitcases, carry them onto an airplane and move to Central America. Reducing one's life into suitcases is not easy emotionally or physically. This is the second time we have done it. This second time seemed much more difficult that the first time.
Catching Up
It has been just over a year since we posted to this blog (See: Quick Update), so this will be a little longer than usual in order to catch everyone up on what we are doing. We also wanted to go through the logic and happenstances that lead us to pick Costa Rica for our operating hub. From here we plan to travel and explore more of our world, and, of course, we'll return occasionally to the USA to visit friends and family.
Downsizing to Suitcases Again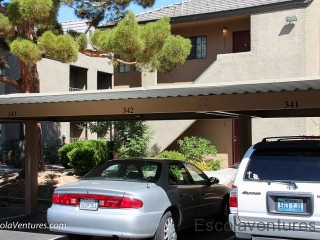 When my wife, Jan and I started our adventure in 2013, we sold our house in Escondido, California, moved to an apartment in Henderson, Nevada, sold our car, and went to Central America for six months. From May to November of that year, we visited several countries before we returned to our Henderson apartment. We wrote about the start of that trip here: Downsizing to Suitcases.
We have now launched the next phase of our adventure. In January, 2015, we once again sold/gave away our car, furnishings, and most of our possessions. We vacated and closed our Henderson apartment, putting just a small amount of irreplaceable items into storage that we couldn't wedge into our suitcases. We spent two nights at the Stratosphere in Las Vegas, which allow us to recuperate some from the emotional and physical stress of parting with most of our belongings.
 On the first of February, we boarded a plane for San Jose International Airport (SJO), Costa Rica. We spent the first night near the airport, and traveled by taxi the next day to the two bedroom/two bath house we had rented in the town of Atenas, Alajuela, Costa Rica. A stop at the realty office to pay the remaining rent yielded a guide to the house, which was about 1.5 km across town. Directions to the house: Calle Mora, 150 meters from the entrance (at Route 3), house color green/aqua on the right hand. The nearby picture shows most of the suitcases that we dragged to Costa Rica. A couple of Jan's were in another room.
Our 2013 Search for a Home Base
On our six-month trip in 2013, we visited several countries, all of which have attractive features, and friendly, helpful people. We first visited Belize, partly because their official language is English, and partly because we had applied for their Qualified Retired Person (QRP) residency. We love walking along the beaches on Ambergris Caye, the wide variety of restaurants, and the multitude of water activities available. Ambergris Caye is truly a tropical paradise and is very popular with tourists from the world over.
We also liked the town of Corozal, as the cost of living there is very inexpensive, and the amenities of Chetumal, Mexico, which include excellent medical care, are easily accessed.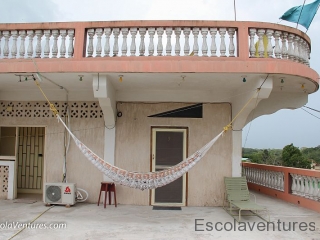 We stayed in a small apartment in Santa Elena in the Cayo District, Belize, which did not have air conditioning, for the month of June, and then moved to the Rainforest Haven Inn, which did have air conditioning, in San Ignacio for several weeks. We had a very nice time and met many good and interesting people in Santa Elena and San Ignacio. We greatly enjoyed visiting the Mayan ruins at Xunantunich with our guide, Hector. A visit to his farm and a local swimming hole were special treats. Our previous posts about our time in Belize include: We're Not in Kansas Anymore, Good News, Bad News, From the Lap of Luxury to Living with the Locals, To Xunantunich and Beyond, Life with the Locals in Santa Elena, Where We Shop and Where We Dine Out, Life in San Ignacio and More, Our Room at the Top and Serendipity on the Hill, Carmelita Gardens and Belizean Construction Methods, Thoughts on the Cayo District, Belize, San Pedro Town Belize, and Leaving Ambergris Caye.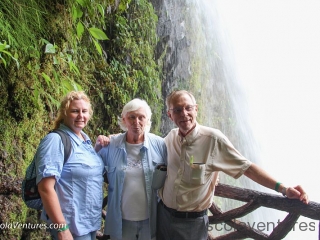 We next visited Costa Rica, where Jan's daughter, Sandy joined us. We had a very nice cabin in the rain forest about three miles from San Ramon just off the Pan-American Highway. The nearest soda (restaurant) was about a mile from the cabin, and since we had no car, walking to lunch provided our almost daily exercise. To get to town and buy supplies, we took a taxi or rode on the local bus. With Sandy, we took some extra tours with our guide, Cesar, so we saw more of the country. Tours included a trip to the beach at Dona Anna, and a delightful seafood lunch. We wrote of our adventures and misadventures, due to our lack of Spanish language skills in these posts: Welcome to Costa Rica, Las Cabinas in San Ramon Costa Rica, Dona Anna Beach Near Puntarenas Costa Rica, Arenal Costa Rica Hanging Bridges / Baldi Hot Springs, Tour Downtown San Jose / Early Exit Costa Rica, and Update on Costa Rica.
Jan and I had visited Costa Rica a few times before, and knew that the central valley, due to its 3,000-foot elevation, was cooler and less humid than anywhere near sea level in Central America. We were there in August 2013, and it was the rainy season, so it rained almost every afternoon. Even so, we enjoyed our time there very much.
We traveled from Costa Rica to Nicaragua, and visited Gran Pacifica and Rancho Santana, two resort/real estate developments, for a few days each before settling into our apartment in Granada. We spent the month of September 2013 in Granada and found it to be a very interesting colonial city with a lot of history. We found the people of Granada to be open and friendly, and made friends with several locals and expats. We took tours to see the islands in Lake Nicaragua, Masaya and Mombacho volcanoes, and Lake Apoyo. The parts of Nicaragua we visited were all at relatively low elevation and tropical in climate. Nicaragua does have some cooler highlands surrounding the town of Estelli that we hear are very nice. We wrote of our experience in Nicaragua in these posts: Gran Pacifica Nicaragua, Rancho Santana Nicaragua, Granada, Nicaragua, Masaya Nicaragua, Mombacho Volcano Nicaragua, and Update on Nicaragua.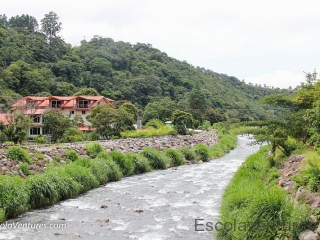 From Nicaragua, we flew to San Jose, Costa Rica for one night, and then flew to Bocas del Toro, Panama before traveling by boat and bus to the mountain town of Boquete, where we had another apartment waiting for us. We arrived in the afternoon rain, but with help from a taxi driver, we moved in. It was October, the rainiest month of the year in Boquete. We didn't plan it that way, but it worked out O.K. We enjoyed our stay and only got soaked to the core two or three times. Here, too, we met many locals and expats, who were friendly and helpful. Boquete has several great restaurants featuring a wide variety of cuisine. Ones serving local dishes were very inexpensive and were expat hangouts. We took a tour to one coffee plantation in the hills above Boquete, and took a self-guided tour by local bus to David, Panama. Due to the large expat presence and American influence from the Panama Canal, English is widely spoken in Boquete. Our month here passed very quickly as we enjoyed the cooler weather at nearly 4,000 feet elevation. From Boquete, we traveled back to Costa Rica and on to Belize for our return flight to Las Vegas. We wrote about life in Panama in these posts: Boquete Panama, Boquete Panama Living, David Panama Trip, Leaving Boquete Panama, and Update on Panama.
Our Time in Henderson, Nevada
Upon our return to Henderson, both Jan and I had some health issues to deal with, so we extended the lease on our apartment until the end of January 2015. We bought a used car for transportation, renewed our driver licenses in Nevada, and started addressing our medical needs. We renewed our passports, as well, and made several trips to Southern California to visit friends and family, during this time, including a 10 day cruise to Mexico and the Sea of Cortez with friends. Sandy and our friend from Oregon, Selma visited us at our apartment at different times. In August 2014, we traveled east to New York to visit family and friends for five weeks. We rented a car for the last four weeks and put 3,060 miles on it visiting in Pennsylvania, Virginia, North Carolina, Delaware, Maryland, and Connecticut.
Why Costa Rica?
All areas in Central America that are near sea level are tropical in climate with temperatures in the 80's and 90's every day, accompanied by high humidity. Night-time temperatures, near morning, get down to around 70 degrees F. We found that to be comfortable, we needed air conditioning at night and a shaded swimming pool during the day. In the end we decided that for continuous living, we prefer a climate that is cooler and less humid, like those in the highlands of Panama and Costa Rica. 
In 2014, Panama offered residency based on favored countries, of which one is USA, so we applied under that program. Unfortunately, the application required an FBI background check, and Jan's fingerprints did not pass the FBI quality standard, so no background check. After three tries, we had to give up. And, not finding a way around it, we withdrew our application for residency in Panama.
We then investigated residency in Costa Rica, and in July 2014, completed all requirements for applying, which included having fingerprints taken at the San Jose, Costa Rica Police Station. Actual submission of our application did not occur until November, because all documents, including marriage license, and birth certificates had to be apostiled (stamped by the Costa Rican Embassy in the US) and translated into Spanish. With the receipt for submission, we are allowed to stay indefinitely in Costa Rica. Approval of our residency could be six to twelve months from submission.
With the receipt in hand, we decided to resume our Central American adventure; filed notice on our apartment, and located a house to rent in Atenas, Costa Rica.
Atenas
From Wikipedia, the free encyclopedia: "Atenas is the name of the fifth canton in the province of Alajuela in Costa Rica. The canton covers an area of 127.19 square kilometres (49.11 sq mi),[1] and has a population of 23,743 (estimate as of 2003).[2] The capital city of the canton is also called Atenas."
The city is located in a valley about 30 minutes west on Route 3 from San Jose International Airport (SJO). English is not spoken widely here, so we will have to learn to understand and make ourselves understood in Spanish.
We are currently working to get the house up to living standard. It had recently been upgraded with new appliances, however, no one checked to see if they all worked properly. The stove was out of propane, so on the second day; a man came on his motorcycle and replaced the tank. Now we have fire. We can survive! The washing machine and the dishwasher both have the drain connections too high, so the pumps cannot get all the water out of the machines, leaving soggy clothes in one and mildew in the other. The new refrigerator seems to work great.
Our biggest challenge after fire, was to get internet installed so we can communicate with the world outside our street. The cable man, who came on Wednesday, 4 Feb., spoke little English, and we speak little Spanish, so it was fun to try and be understood. At one point, an English speaker was called to make sure we understood the contract we were signing. This resulted in two men showing up to install TV and Internet on Friday. The rest of the day was spent catching up on all our online activities, including calls to family using our Vonage and MagicJack phones. Saturday we ventured into town to get a Costa Rican phone and a TV. After hooking up the TV, we discovered that our basic package includes only 13 channels and all are in Spanish. We'll get more channels as soon as we can make the cable man understand what we want.
Stay tuned…
The following two tabs change content below.
George grew up in the central San Joaquin Valley of California, and after high school, joined the US Navy. The Navy provided travel and education, including a degree from Purdue University. He left the Navy after 14 years to pursue other opportunities and worked in San Diego, California for 29 years for an industrial gas turbine manufacturer in New Product Development until retiring in 2008. George spends his time photographing and documenting his travels.
Latest posts by George Escola (see all)