Gran Pacifica Nicaragua
Gran Pacifica Nicaragua came right after our early exit of Costa Rica, due to a shorter than expected visa. Our flight on Nature Air was interesting as we flew in sunshine just above the clouds and could see the ground only here and there.
When we started flying over Lake Nicaragua, we could see the western shoreline for most of the way. We passed over Ometepe Island before heading over land past Lake Apoyo  to our eventual destination of Managua, Nicaragua.
The farmlands near Managua as we approached the airport, were beautiful the way they were laid out and so green with fresh growth. Once on the ground, we passed through immigration, where we were given a 90 day visa, and customs where we were processed through with no problem. Outside, we were immediately approached by taxi drivers, including two who spoke pretty good English. Eventually, we allowed one of them to take us and our luggage to our hotel, which turned out to be right across the busy Pan American Highway from the airport.
Finding a Ride to Gran Pacifica
"Do either of you know where Gran Pacifica is?" we wanted to know.
We had walked across the highway from our hotel to the airport to see if we could find someone who knew the way to Gran Pacifica Nicaragua. We recognized these two taxi drivers from when we arrived in Managua. They spoke enough English for us to understand each other, and had said that they could take us wherever we wanted to go for a good price.
"Si, senior," said one with confidence. "I know how to get there."
"Can you take us there tomorrow," we asked?
"Si, senior."
"Great!  How much and can you pickup us and our luggage at the hotel tomorrow at 11 o'clock?"
"Yes, I can pick you up and take you for $70."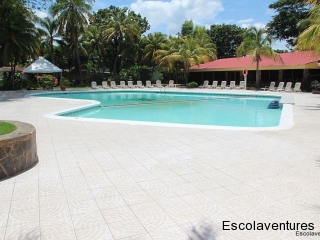 We walked back to the hotel greatly relieved, as our attempts to even find a taxi driver that spoke some English yielded nothing at the hotel. So, we relaxed for the rest of the day and the next morning.
Just before 11:00 the next day, as we were checking out at the front desk, Javier stood next to me and offered his hand.
"I'll be right out front," he said.
Soon we were on our way.  Javier expertly wove his way through the busy, Friday morning Managua traffic. After about one-half hour, we left the city and were sailing through the Nicaraguan country side on good paved highway. The hillsides here were green with huge guanacaste trees here and there among the many other trees, bushes and grasses that covered the hills. Some 30 or 40 minutes later, Javier turned right onto a dirt road that turned out to be in pretty good shape and fairly smooth, even though it had rained earlier. This is the road that the staff at Gran Pacifica warned might require a four wheel drive in the rainy season, but, Javier's Corolla made it through just fine. (Later, we learned that this section of dirt road is scheduled to be paved by the end of 2014.)
Gran Pacifica Resort
We arrived early, but we were checked in right away. Javier helped move our luggage to our condo on the third floor. We bid him, adios, and took a look around our condo. It is on the third or top floor, has one bedroom, a bath and an open kitchen, dining and living room. The condo was equipped with hi-speed internet and satellite television. There is a small balcony with a view across the lawn and surf to the Pacific Ocean. The good surfing here was a closely guarded secret of the surfing community long before anyone thought of developing the land.
Kent Payne, VP of Sales at Gran Pacifica Resort, introduced himself as we were eating breakfast in the restaurant. We made an appointment with him to get the full story on the resort. We chatted as we ate, and then Kent took us in a golf cart to see the property.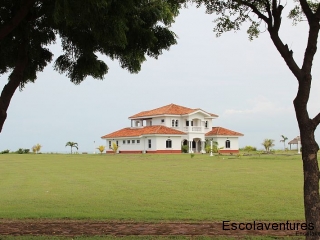 The first phase of the Gran Pacifica Resort consists of about 300 building lots, the condo-hotel, where we are staying, a second condotel is in build, scheduled to open the end of 2014 by the Wyndham Hotel Group, and a 80-room hotel by Marriott is scheduled for future build . A 9 hole golf course winds around and through the development with a second 9-hole course nearing completion. A third 9-hole course is planned. Some 40 houses have been built with another five or six in construction, and more in planning and design.
Lots are available from around $40,000, and houses can be built from $75/sq.ft, plus lot cost, depending on final finish. Larger houses can come in a little less due to economies of scale. One house is currently offered for resale at $135,000. The construction quality is very good and the whole community recently rode through a magnitude 6.1 earthquake unscathed.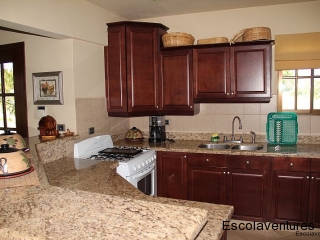 We covered a lot of ground that day in the golf cart, including several holes on the golf course. We could imagine walking the course in the early morning watching the birds, rabbits, and the ocean along the way. We stopped at one completed house, so we could get a feel for the inside finish. This house was two story, and completely furnished. The hardwood cabinets were top quality, and made in the on-site wood shop. Granite counter tops completed the fine-finish look.
There is no grocery market at Gran Pacifica Nicaragua, so all our meals were taken in the restaurant, where there is a complete bar. The food was always very good and service came with a smile. Right out the back opening of the dining area, was the pool area with the Pacific Ocean beyond. Out the side, the golf course could be seen beyond some available lots. Most nights, beside the soft background music, we could hear the ocean waves crashing onto shore. But, one night just as we began to eat, the rain started, which soon became a downpour. With the openings around the seating area, it was like having front-row seats at a performance. We really enjoyed the storm while finishing our meal.
The highlight of our visit was dinner with Mike Cobb, Kent Payne and his wife, Denise. Mike and Kent are expats and executives with ECI Development, the company behind Gran Pacifica. Getting to know each other better and sharing experiences was great fun. The next morning, Mike interviewed us for his radio program, "Mike's Gringo Life." on Overseas Radio just before our driver arrived to take us to our next destination.
Next Time: Rancho Santana Resort
The following two tabs change content below.
George grew up in the central San Joaquin Valley of California, and after high school, joined the US Navy. The Navy provided travel and education, including a degree from Purdue University. He left the Navy after 14 years to pursue other opportunities and worked in San Diego, California for 29 years for an industrial gas turbine manufacturer in New Product Development until retiring in 2008. George spends his time photographing and documenting his travels.
Latest posts by George Escola (see all)