Jaco and San Jose Costa Rica
Jaco and San Jose Costa Rica are two very different cities that we visited for very different reasons. Jaco was our destination for two days at the beach on the Pacific Ocean. We had to go to San Jose in order to retrieve a package that had been waylaid by Correos de Costa Rica. Twice. We'll also give an update on our life in Atenas, and more.
(Click on pictures to enlarge.)
Vacation to Jaco, Costa Rica
Our room at the Posidon Hotel was upstairs in the back corner. We arrived just after Noon for a two night stay. The hotel restaurant serves a daily lunch special. On Tuesday it was three small tacos with all the trimmings and iced tea for $6.00. Very good! After lunch, we took a stroll through several blocks near the hotel. The streets are lined with shops, bars and restaurants. We found a restaurant called Barco de los Mariscos Bar Restaurante y Pizzeria that looked good for dinner. We also walked down to the beach and watched the surfers for a while. There are plenty of surf shops that rent surf boards and give lessons in Jaco.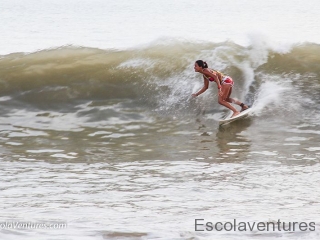 Jaco is a very popular coastal resort city of about 10,000 people on the central Pacific coast of Costa Rica. It is the closest beach to San Jose at 100 km (62 miles) or about two hours. The beach is 4 km (2 miles) long and is considered one of the best for surfing in Costa Rica. Jaco is about one and one-half hours from the international airport in San Jose. There are mountains nearby and rain forest with recreation areas within five minutes. Manuel Antonio National Park is just 75 km (45 miles) to the south, and Carara National Park is just 35 km (21 miles) to the north.
On our second day in Jaco, we augmented the free continental breakfast with a couple eggs. While sitting at a table near the sidewalk, we saw a pair of Scarlet Macaws fly by. No chance for a picture, but they were beautiful to see as they flew by.
Later, we headed up the street to look for a hammock and some dresses for Jan. Lots of shops to look through. Being a tourist town, there were no deals, but Jan eventually found a couple of dresses. We looked at several hammocks, as well, eventually settling on one of multi-color cloth.
Retrieving a Package in San Jose, Costa Rica
The eight o'clock bus left the Atenas station at eight o'clock sharp. We were on our way to pick up a package that had been grabbed by Correos de Costa Rica in San Jose. We received a notice (Aviso) in our Atenas mail box when we returned from Jaco. Just a little past nine, we left the bus at the station and found a taxi. We were lucky to find a driver who spoke some English, saving us from struggling with our Spanish. He understood where we needed to go and expertly weaved his way through the San Jose traffic, as you can see in a nearby picture. In San Jose, we leave the driving to experts.
At Correos de Costa Rica, Zapote, we had to sign our name and write our passport number four or five times and pay 30 colonies (about $0.06) to get our package. Luckily, our taxi driver was waiting for us in the parking lot, and we made our way back to the bus station. We took time for lunch near the station, which had several groups of statues. The traditional Costa Rican food and coffee was very good. Our driver said that the station was just two blocks down, but somehow we missed it. After walking about ten blocks and asking no less than three people for directions, we finally got to the station.
Talking with other expats, we learned that when one orders anything from a company on the internet, Correos in San Jose grabs it and charges import duty. Things routed through a mail forwarder don't get grabbed. Both of us had ordered something from an internet supplier, so a few days later we had to go the San Jose and repeat the whole process, again. This time the charge was 1,030 colonies, or about $1.94.
Life in Atenas
Meanwhile, life in Atenas is good. We bought a table to put the TV on. It is a little higher than before so we can see it over our computers on the dining table. We still need a board under the table for a shelf that we can put all the peripherals on. On Wednesdays there is a woman's get together at Kay's Gringo Postres that Jan has been going to. I (George) go along and chat with any guys who show up. On Thursday, 28 May, we were treated to a play put on by a Shakespeare troop at Kay's.
We're getting more involved and life in Atenas is very good.
New Economy and Markets Section
We realize that not everyone is interested in what's happening in our economy or in the stock, commodity, and bond markets. But I (George) have a strong interest in these areas, so I have started writing essays and will post them on this blog in a new Economy and Markets section for anyone who is interested. The first entry is, "What I Learned from Turkeys." Enjoy and please address any comments or questions to gescola@fastmail.net.
Until next time…
The following two tabs change content below.
George grew up in the central San Joaquin Valley of California, and after high school, joined the US Navy. The Navy provided travel and education, including a degree from Purdue University. He left the Navy after 14 years to pursue other opportunities and worked in San Diego, California for 29 years for an industrial gas turbine manufacturer in New Product Development until retiring in 2008. George spends his time photographing and documenting his travels.
Latest posts by George Escola (see all)