Life in Atenas Costa Rica
Life in Atenas Costa Rica continues to be very good for us. We recently received our temporary residency and joined the Costa Rican Healthcare System (Caja.) The adventure continues as we open a bank account, and look for a more permanent place to stay where we can improve our realization of living better for less.
Life in Atenas Costa Rica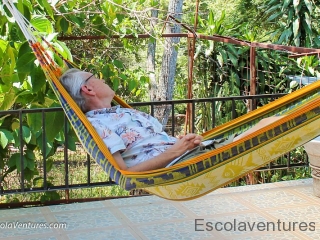 We spent the last week of June at home in Atenas relaxing and catching up after our trip to Mexico and Belize. This time included another trip to San Jose to pick up yet another package that had been snapped up by the postal inspectors. This one costs us more, but we will try very hard in the future to avoid having packages grabbed. It seems that anything that looks like it was ordered on line, especially vitamins and cosmetics, or anything in an Amazon box, gets snagged. The only way to avoid the inspectors is to use an independent shipper, who is authorized to declare and pay the necessary duty on the items. Shippers can be very expensive, so as we learn what is available here in Costa Rica, we will have less and less shipped in.
Getting our Residency Cards (Cedulas)
It was Monday, June 29 in the afternoon that we got the email "reminding" us of our appointment with Migracion (Immigration) at 11:00 on Wednesday, 1 July. It took some time to determine that on 31 May, an email was sent to us with instructions attached on what we needed to do the prepare for our appointment. By the time we had these instructions, it was too late to do anything that day, so we gathered the documents we could and made plans to go into town on Tuesday. We started at the Bank of Costa Rica (BCR) to make deposits to the Caja Trust. Joining the Costa Rica Healthcare System, Caja is a requirement for residency. Once we had our receipts, we headed to the Caja office. Using our elementary Spanish, we explained to the lady in the cubical what we needed. When she understood that we needed to complete registration with the Caja, and get to our Migracion appointment at 11:00 the next day, she directed us to the inspector, who is the head of that office. The inspector took our information and entered it into the computer system, he then explained the information he still needed and told us to return to that office at 7:15 in the morning.
We discussed all this with our Property Manager, Diane, and she volunteered  to accompany us to the Caja office. On Wednesday morning, we were in the Caja office at the appointed time. We sat and waited. Then, the inspector brought us into this office, but he only wanted to talk to Janice and Diane, because we used Jan's Social Security to qualify for our residency. After a while, our paperwork was in order. From there we went to one of the local grocery stores, and made the payment for the first month of Caja coverage at the cashier inside. With receipt in hand, we just had time to get on the 9:00 local bus to San Jose. We could not have done it without Diane's help.
We got off near Hospital Mexico, and took a taxi to Migration where we arrived about 10:30. We met our attorney outside door number 3. She gave some quick instructions, and lead us past the line into the waiting room. Several minutes later, we were called in. We each went to separate windows where we were asked questions as our information was put into the computer system. Finally, we were done and sent out to the courtyard, where we were united with our attorney. After some time, we learned that we would receive our cedulas that day. Indeed, after about another half hour, our names were called and we went in to get our cards. Suddenly, just before Noon, we were done with cedulas in hand.
To celebrate, we took a taxi to have lunch at Denny's next to the Best Western Irazu not far away. After lunch, we walked down to the bus stop on the Pan-American highway, and caught the bus back to Atenas. Once at home, we called our attorney (brother of the attorney in San Jose) in Los Angeles, and when he heard that we had our cedulas, he said that no one ever does it so fast. What a relief to have this important step completed!
A few day later, we went to get our Caja cards, which allow us access to healthcare services. Mercedes, who works at Kays Gringo Postres, agreed to accompany us and serve as translator. We met at the Caja Clinic office at 8:30 so that Mercedes could get to work by 9:00. We presented our paperwork, and the man behind the glass window entered our information into the computer. This must be a computer hooked to a difference system than the one in the Caja Social Security office around the corner, because most of the information was the same. After it was entered properly, and an acknowledgement paper signed, a Caja card was printed. This card was for Janice. I, George, was given two pieces of paper and told to come back in a week to see if my dependency application was approved or not. Well, anyway, we're making progress! One step at a time. Thanks to Mercedes, the process went smoothly and we were out of there well before 9:00. One week later, we returned to the Caja office, and I was given my Caja card.
We are very grateful to those who helped us through the many hoops of the process. We could not have done it without a little help from our friends.
Next steps are to open a bank account, get driver licenses, and find a more permanent place to stay while in Costa Rica. The adventure continues…
The following two tabs change content below.
George grew up in the central San Joaquin Valley of California, and after high school, joined the US Navy. The Navy provided travel and education, including a degree from Purdue University. He left the Navy after 14 years to pursue other opportunities and worked in San Diego, California for 29 years for an industrial gas turbine manufacturer in New Product Development until retiring in 2008. George spends his time photographing and documenting his travels.
Latest posts by George Escola (see all)