Santa Elena Belize, Cayo District – June 10th, 2013
On our way from San Pedro to San Ignacio, we landed at Central Farms on a runway that has seen better days, although it wasn't as rough as it appeared to be from the air. We taxied to a stop by the main building and the other passengers got off. Jan and I stayed in our seats waiting for the final leg of the trip, until the pilot turned to us and said,
"This is as far as this flight goes. They are repaving the Maya Flats airstrip at San Ignacio. Oh, no one told you? They'll take you by shuttle the rest of the way."
It always pays to be flexible when traveling.
So we had a good look at Central Farms while we waited for the shuttle. Nothing but farms and farm houses as far as the eye can see beyond the airport. Those white specks we had seen from the air turned out to be Brahma cattle.
The Santa Elena/San Ignacio area contains about 7,000 people, and they all seem to know each other. Our shuttle driver called our real estate contact and arranged to pick her up in San Ignacio before delivering us to our apartment in Santa Elena, where we met Lucy, who keep the place up and William, the owner.
Since leaving Las Vegas, we have been vacationing in luxury resorts and nice hotels in Belize City, Corozal, Playa Del Carmen, and Ambergris Caye. Where we are now, is a lot more like living with the locals.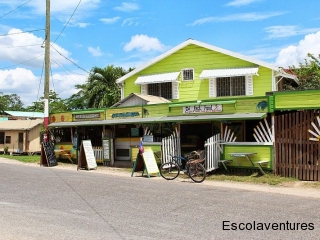 Our apartment is one of three behind a locked door at the back of a Belizean restaurant. (It's the one on the left behind the black Cold Beer sign in the picture below.) "Mom" runs the restaurant. (Yes, you can take the beer to your room as long as you promise to bring the bottle back.) We have 300 square feet with one room and a bathroom. A low wall separates the living room from the bedroom. The common area in front, also pictured below, has seating areas for three apartments, a stove, and laundry facilities. We've been fortunate, so far, to be the only occupants. The owner of the whole complex lives upstairs.
The road in front of our place is the Western Highway, which is one of three main highways in Belize. It runs between Belize City and the Guatemalan border at Benque Viejo, and is one way, west, in this section, although the occasional wrong-way driver is tolerated. It does keep us light on our feet while walking!
In our area are several markets, including markets selling meat, fresh fruits and vegetables. Two Chinese super markets supply most household needs and foods, except for fresh produce. There are also several restaurants beside the ones in front of our place. Most feature Belizean food, but Mexican and Guatemalan foods are prevalent, as well. Many serve hamburgers and French fries, if one prefers.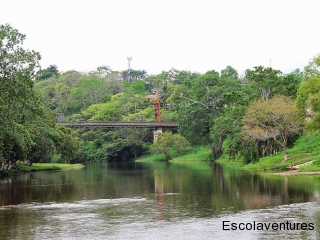 The Belize River separates Santa Elena from San Ignacio. Travel between towns is by a pair of one-way bridges. On our first Sunday here, we walked about a mile across the low lying bridge to the Farmers market in San Ignacio. It turns out that this market is open every day and features several dozen booths with all kinds of produce. We got fresh bananas, papayas, mangos, watermelon and some veggies.
On Saturdays, the market expands with temporary booths and people selling out of the back of pickups and trunks of cars with a wider range of merchandise available. It's the only time we've seen a traffic jam here as cars lined the streets near the market looking for parking.
On Monday, we went to Rainforest Realty to pay what remained on the apartment. There we met Ginny and Guido who welcomed us to San Ignacio and offered a lot of information about the area. It turns out that Guido's father, Hector, is a tour guide and he was taking a couple to Spanish Landing that afternoon and would we like to go along? So, after a great lunch of fish, rice and beans at a nearby restaurant with Ginny, we met up with Hector and a nice couple from Iowa. They are scouting for a place to buy and getting to know the countryside. In addition to seeing Spanish Landing, Hector will also take us out to his farm.
Spanish Landing reminded us of the green hills of Pennsylvania with Mennonite and Amish farms covering the land. These farms are neat and appear to be well run and prosperous. We stopped at a store run by the Amish in a large warehouse-type building. The store carried a wide variety of clothing, foodstuffs, and merchandise at reasonable prices.
"We're headed into the village", said Hector, as he turned off the main highway onto a side road. "This road is maintained by the village, so it isn't as smooth as the main highway." Past farms and forest areas we came at last to Hector's farm.
"This is the Mayan well." Hector indicated the structure under a roof in the middle of the yard. As he opened the lid, a small, black scorpion ran down the side and hid in some rocks. The well was about ten feet deep to the water level. At the back of the yard, under a tree was an old gentleman working on a dugout canoe.
"This man is a Mayan, 83 years old and he makes canoes in the traditional Mayan way. All hand tools, no chainsaw used to make this canoe," Hector told us. Behind the canoe and the man was a pile of wood chips attesting to the long hours of work.
A tour of the farm revealed a wide range of trees, including mango, papaya, orange, avocado, cashew, noni, and others. Cashew nuts grow in pods below a fig-like fruit (see picture below), which is used to make wine. I'll have to taste some and report back in a future blog. In the distance was a field of several acres planted in corn that was just a few inches high.
One area had sugarcane, and just beyond was some ponds for raising tilapia. The fish roiled the surface as Hector tossed food. Hector explained that the ponds were dug using a backhoe and they naturally filled from the high water table in this area. Later, we were treated to a demonstration of how to hand-squeeze juice from sugar cane.
Hector's farm is an excellent example of self-sufficiency. One would want to add a few animals, maybe a cow, chickens, etc. However, Hector warned that there are two jaguars living in the nearby woods that have demonstrated a taste for sheep.
We wanted to spend time in the Cayo District, where we are, because the elevation is higher and we were thinking that it might be cooler and less humid. Well, it's the rainy season and the elevation here is only about 500 feet. Day time temperatures have been in the upper 80's,and low 90's, but at night it cools down to the mid-70's. It rains almost every afternoon or night, sometimes quite hard with lightning and thunder. Fans move the air around inside our apartment allowing us to sleep at night.
Jan was having problems with her computer overheating and shutting down, but due to the kind folks at Rainforest Realty, a computer repairman has restored it to working order.
Next Time: Our trip to the Mayan ruins at Xunantunich
(Originally published by Email as: Blog #4 061013 From the Lap of Luxury to Living with the Locals)
The following two tabs change content below.
George grew up in the central San Joaquin Valley of California, and after high school, joined the US Navy. The Navy provided travel and education, including a degree from Purdue University. He left the Navy after 14 years to pursue other opportunities and worked in San Diego, California for 29 years for an industrial gas turbine manufacturer in New Product Development until retiring in 2008. George spends his time photographing and documenting his travels.
Latest posts by George Escola (see all)