More on Life in Atenas
More on Life in Atenas continues the story of how we are adapting to life in Atenas and Costa Rica. The process of integrating moves forward as we open a bank account and complete our first doctor appointment at the Caja. We're also working on plans to explore more of Costa Rica, make our first visit back to the US, and complete our required annual time in Belize to qualify to renew our Belize residency.
Learning to Use the Healthcare System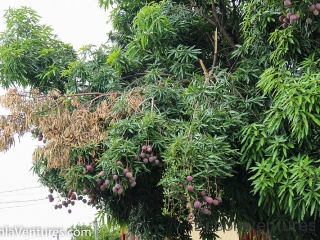 After getting our residency cards (cedulas,) and Caja cards, as we reported here, our next task was to make appointments to see a doctor for general checkups. After asking at one window, which turned out to be the farmacia (pharmacy,) we were directed to the window across the room. We explained that we needed to see a doctor for a general checkup, and was there any who speak English.
"We don't have any," was the reply in Spanish.
The lady at this window took our cedulas, and Caja cards, entered info into the computer, and printed out some pages, which she put into our medical files. She then handed us appointment papers. Both of us were to be back at 10 am in the morning. When we asked where, she said, "over there," in Spanish, and looking over there, we saw a room labeled "Pre-appointment."
The next day at the appointed time, we sat in chairs across from the Pre-appointment room, and waited. Ten o'clock came and went as names were called and other people came and went. About 15 minutes after ten, we went back to the appointment window. It turns out that we had gone to the wrong, "over there," as she now directed us to the window next to her. When that person returned, she pulled our files. After checking that they were complete, she had us return to our seats as she took our files around the corner to another Pre-appointment room. In just a few minutes, our names were called and a nurse in the Pre-room took weight, height, and blood pressure. We answered a few questions about our general health, which the nurse dutifully wrote into our file. Then, she lead us to the doctor's office.
The doctor greeted us and looked though our folders. He asked some questions, then listened to our heart and lungs. He ordered lab tests for both of us, and he wrote a prescription for me (George) to treat some swelling in the feet. We left the doctor office and went down the hall to the laboratory. There, they took our lab orders and gave us containers for the test specimens. Next, we returned to the farmacia. Here, there are windows #1 and #2. Prescriptions are turned in at Window #1 and prescribed items are handed out at Window #2. In Costa Rica, workers are very specialized, so we were surprised when the person at Window #2 motioned us over and took our prescription. As we were waiting, we noticed a sign that indicated that prescriptions could take up to two hours, but if it was an emergency, they would be ready within one hour. Every so often, several names were called and they would line up at the #2 window to get their medicine. After waiting for a half hour or so, we decided to go to lunch. We returned an hour and a half later and the prescription was ready.
Opening a Bank Account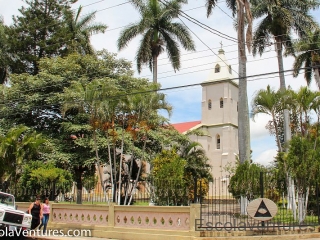 We had some documents that need notarizing, so we asked around and found out that in Costa Rica, only attorneys are notaries. Several, who speak English were recommended, but the first one we called was not available. We were down town to check our mail, and remembered that we had seen an attorney's sign just down the street. We arrived and were buzzed in to the compound. Luckily, we caught the attorney on her way to a meeting, and, yes, she could help us in a few minutes after her meeting. We were given a personal data form to fill out while we waited.
Once Cecilia had looked through our papers to be notarized, she explained how Notaries work in Costa Rica. Each signature requires a notary stamp, and since our signatures needed two witnesses, the total bill, with copies for everyone, would come to over $400! Cecilia offers "one stop" service, so in her office is a person who could send the papers by UPS to their final destination.
While we signed and notarized our documents, Cecilia talked of other services she offers that included real estate sales, escrows, and bank introductions. Since opening a bank account was the next of our priorities, we enlisted Cecilia to help us. She gave us a list of items needed, and she made an appointment in eight days for Tuesday, at 8:15 am in front of Banco Nacional.
Once home, we called our bank in California and asked for a letter of reference. The letter was no problem, but they could only mail it to the address of record for that account, which is our mail forwarder in Las Vegas. The letter arrived on a Thursday, and the only way to ensure that we had it by Tuesday was to have it sent to our house by DHL. The letter arrived just after 6 pm on Friday evening. We got copies of the last quarterly bank statements on line, and we emailed copies to Cecilia so she could have them translated into Spanish.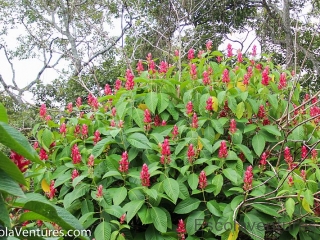 On Tuesday, we were waiting at Banco Nacional by 8:00. As we sat on the edge of the ramp to the bank entrance, we noticed a line start forming about 8:15. A few minutes later, Cecilia came up and led us to the front of the line, where one of her people was holding our place in line. The door opened at 8:30, and we followed Cecilia to an office at the back. Cecilia and the girl behind the desk greeted each other as old friends, then we were introduced. We all sat down and Cecilia gave her our papers. As she went to work inputting data into the bank computer system, Cecilia explained that when she first started helping people open bank accounts, it was taking over two hours each. Now, they have a system that only takes a half hour or so. Sure enough, our data input was complete in about 30 minutes. We were then told to return the next day and see the man on the other side to get our debit cards and token. The token is a small electronic device that generates numbers to verify who we are when using online banking.
The next day when we returned, we picked up our debit cards and were given a bill for the token, which we had to pay at the cashier window. The cashiers were pretty busy, so we decided to come back another day, which we did. The token costs 3,000 colonies, or about $5.85. With the token, we got instructions on how to use online banking, and got info on wire transfers so we could fund the account. A few days later, our wire transfer came through, and we were in business. Now we can pay all our monthly bills online, including cable, utilities, and rent.
Next Time
We attempt to get Costa Rica driver licenses, and explore the areas surrounding Atenas. In addition, we'll finalize plans to visit California in October, and Mexico and Belize in November.
The following two tabs change content below.
George grew up in the central San Joaquin Valley of California, and after high school, joined the US Navy. The Navy provided travel and education, including a degree from Purdue University. He left the Navy after 14 years to pursue other opportunities and worked in San Diego, California for 29 years for an industrial gas turbine manufacturer in New Product Development until retiring in 2008. George spends his time photographing and documenting his travels.
Latest posts by George Escola (see all)