San Pedro Town Belize
San Pedro Town Belize is a first class tourist destination with a beautiful coastline and water activities of every description from snorkeling and diving to boating and fishing. The world's second largest barrier reef lies just three-quarter mile offshore. San Pedro Town on Ambergris Caye off the northern Caribbean coast of Belize was our destination for the last ten days of this leg of our Central American journey. We had spent some time earlier in our travels in May and reported on it here.
San Pedro Town Belize
" Are you looking for someone?"
We had just arrived at San Pedro Airport on the island of Ambergris Caye, Belize. The speaker was one of the taxi drivers awaiting fares.
"Yes, a man named John was supposed to meet us and take us to the apartment we rented," we replied.
After talking a little more, the taxi driver said, "I think I know John. They call him Brother John because of the church work and his wife, Ruby has a restaurant."
"That sounds like he's the one," we said.
"I know where his wife's restaurant is. I can take you there, find John, and drop you at your apartment."
"O.K."
So we headed south down Coconut Drive for more than two miles to Ruby's Kitchen. There, we met Ruby and soon met John, as well. The apartment was back to the north. Only Coconut Drive is paved in this part of the island, and It was still the rainy season, so all the side roads were flooded to one extent or another. The taxi plowed through the water, from one puddle to the next, sometimes axle deep, until we pulled up to the apartment.
John led the way to our upstairs to the one on the right. The apartment had one bedroom in the back with the kitchen and bathroom in the middle, and a living room up front.The covered porch extended across the front of the neighboring apartment.John left us to ourselves and we settled in before heading out to find something for dinner. The apartment was across the street from the Grand Baymen condo complex where we had purchased when we were here in May. We knew that the Exotic Caye Beach Resort was just down the street to the east on the beach, and there used to be a cafe there.
We skirted the puddles for two and one-half blocks and crossed Coconut Drive to the cafe. The cafe is now called Melt Cafe and we found that the owners were Mark and Melissa, originally from Henderson, Nevada. We were in luck that they were still open, since they serve mainly breakfast and lunch. The sandwiches were good, and it was interesting to talk with people who knew where our apartment was in Henderson. We stopped at the Public's Market on the way back to the apartment and got a few things to fix in case the rain kept us in. While it rained almost every day, we managed to get out around the island walking and stayed fairly dry. Getting around the puddles on the back streets was a challenge, but walking along Coconut Drive or along the eastern waterfront was O.K.
We had either breakfast or lunch at Melt Cafe on most days. There was a conference being held at Caye International Bank, LLC, which several people we knew attended. And, while eating at Melt Cafe, we were happy to see Mike Cobb, CEO of ECI Development again, Peter Zipper, President of Caye Bank, and Joel Negal, International Attorney. Peter and Joel we had met at earlier conferences. We also had the pleasure of meeting and having dinner at the Bluewater Grill with Rachel Jenson, who handles our account at Grand Baymen. Grand Baymen, Exotic Caye Resort and Gran Pacifica all fall within the ECI Development family.
Trip to Caye Caulker
Our water taxi brought us swiftly to Caye Caulker. Caye Caulker is about five miles long and less that a mile wide. It lies one mile west of the Belize Barrier Reef. It was a beautiful, sunny day as we walked off the pier onto the white sand. We headed north along the waterfront, enjoying another beautiful tropical island. There were shops and hotels on our left and beach, piers and water-activity businesses on our right.
As we walked, friendly people talked to us about tours and activities we might like. Since we were on a self-guided tour of Caye Caulker, we declined all offers until a young man with a barbecue offered to cook us lunch. He had several types of fish, shrimp and calamari that he would fashion into kabobs and serve with rice and salad. His timing was perfect, so we sat at a nearby picnic table and ate mahi-mahi and calamari kabobs with some drinks we got from a market down the street.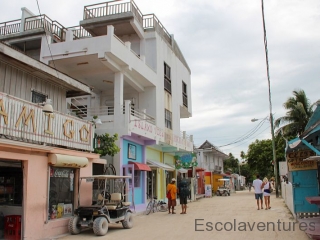 The streets in Caye Calker were all unpaved, but the white sand here handled the rain water better than on Ambergris Caye. We encountered no large puddles. We walked to the north end of the island where there was a resort, and then to the west side, where it was a little more residential with hostels, hotels and bed-and-breakfast places here and there among the houses. After several blocks to the south, we cut over to the center of town past more shops, markets, and hotels. We got back to the water taxi pier in time to relax and have a cold drink outdoors where we could watch the birds and people on the beach. If anything, Caye Caulker was even more easy going and laid back than Ambergris Caye.
Next Time: Leaving Ambergris Caye and Belize
The following two tabs change content below.
George grew up in the central San Joaquin Valley of California, and after high school, joined the US Navy. The Navy provided travel and education, including a degree from Purdue University. He left the Navy after 14 years to pursue other opportunities and worked in San Diego, California for 29 years for an industrial gas turbine manufacturer in New Product Development until retiring in 2008. George spends his time photographing and documenting his travels.
Latest posts by George Escola (see all)