Settling Into Atenas Costa Rica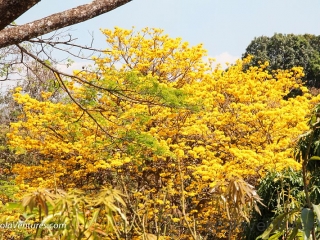 Settling into Atenas Costa Rica has been an interesting experience. After the first month's repairs were completed, things calmed down, and we were able to explore more of the town. We located and ate at more restaurants, shopped at more stores, and went to the local Friday Feria, (farmers market) just outside of town. The only home improvement issue remaining was installation of a larger water tank. The larger tank was needed because we had run out of water during repairs, which we wrote about in Our First Month in Atenas Costa Rica.
Installing a New Water Tank
One Saturday, workmen came early, and left after taking measurements, and notes. They brought back a new, larger water tank and supplies. The frame that holds the tank at roof level had to be reinforced, so, a new center support with cross bars was welded in, and a support to a nearby steel fence was added. Next, the original tank was emptied of its 450 liters of water. Some water was captured in pitchers, and buckets. The new 1,100 liter tank was positioned and connected to the water pipes. Soon, everything was ready to receive water, except that no water was coming from the city water main.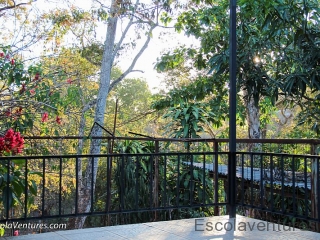 As we would come to find out, water only flows from the city water system for a short time around 3 am each day. Well, last time we ran out of water, the tank filled over night and all was well in the morning. However, after two nights without water flowing in the morning, we were completely out of water. Time to call and get this problem fixed. In a little while, the head workman came out and found that the tank outlet valve had been left shut. Since the tank was full of water, our water problem was solved as soon as the pipes filled throughout the house. With this larger tank, we will, hopefully, not have any further water problems.
 Exploring Atenas
Every other day, or so, we venture into the town of Atenas, about one mile (1.5 km) from our house. Usually, we check our mail at the Correo, shop at the larger grocery stores, and/or at the Mercado next to the bus depot. Sometimes, we go to lunch at one of the many sodas or restaurants in the area. Several offer excellent local dishes, sandwiches, pizza, and seafood. Some, like El Balcon, seem to cater to expats with the menu printed in both Spanish and English. Our favorite expat hangout is Kay's Gringo Postres. They are open  for breakfast and lunch every day, except Monday. On Sundays, brunch with made-to-order omelets, is offered in place of the menu. They also have a large English-language lending library.
Safety and Security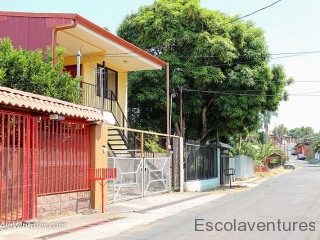 When a North American sees fences, barbed wire, and bars on the windows of houses in Central America, the first impression, for many, is that this must be a very dangerous area. Since spending some time and living in several Central American countries, we've developed a slightly different perspective. It is that people here have developed a posture of self-reliance rather than depending on some external security force. They realize that they are responsible for their own safety and security. We have heard it said that, "fences make good neighbors."  Here, fences and barbed wire make safe neighborhoods.
The following two tabs change content below.
George grew up in the central San Joaquin Valley of California, and after high school, joined the US Navy. The Navy provided travel and education, including a degree from Purdue University. He left the Navy after 14 years to pursue other opportunities and worked in San Diego, California for 29 years for an industrial gas turbine manufacturer in New Product Development until retiring in 2008. George spends his time photographing and documenting his travels.
Latest posts by George Escola (see all)