Epic Travel Journey Throughout Central and South America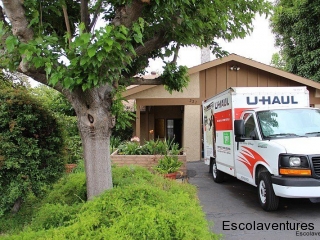 Last fall, my wife, Jan and I decided on an epic travel journey throughout Central and South America for the next year or two. Starting in November 2012, we fixed up the house, sold and gave away my woodshop, and the big, heavy furniture. We sold one car, and the four bedroom, California home on one-half acre near town is in escrow. In addition, we've moved to Nevada. On Wednesday we fly to Belize in Central America.
My original goal was to down-size to suitcases when we left the big house, drive to Las Vegas, sell the car, and grab a flight south. In the end, we decided to make the transition in smaller steps. So, we rented the smallest U-Haul truck and brought about half a load of small furniture and furnishings to Las Vegas. We rented a one bedroom, furnished apartment in Henderson for seven months so we'll have a place to come back to should the need arise. We were going to keep the car and store it at the apartment while we're gone, but when I went to register it in Nevada, I was handed a laundry list of things to be done before registration. There just wasn't time to get it all done before our flight, so I got a quote from CarMax and sold it to them on Monday. One less encumbrance. We'll hire drivers or rent cars when we need them.
Our schedule so far is to fly to Belize City on Wednesday morning via Dallas-Fort Worth, arriving at 2:35 pm. We'll stay at the Princess Casino Hotel for two nights. On Thursday we'll meet our attorney in Belize City and get answers to our questions on the Qualified Retired Program (QRP) residency program that we have applied for. Friday we fly to Corozal, where we will stay at Las Palmas Hotel, where we stayed in 2011. On the 20th, we will travel to Playa Del Carmen for the International Living Ultimate Event to listen to experts from all l over the world tell us why we should consider their location.
We stay in Playa Del Carmen until May 27th, and then travel back to Corozal for one night before flying to Ambergris Caye for four nights. On the first of June, we will fly to Rainforest Realty in San Ignacio to sign for our rental in Santa Elena. Our rental is an efficiency unit of 300 square feet, so nothing fancy. We might decide to stay on for the month of July or we might move on to the southern Belize coast or to Costa Rica. I'll let you know. Stay tuned…
(Originally published by Email as: Blog #1 051413 Downsizing to Suitcases)
The following two tabs change content below.
George grew up in the central San Joaquin Valley of California, and after high school, joined the US Navy. The Navy provided travel and education, including a degree from Purdue University. He left the Navy after 14 years to pursue other opportunities and worked in San Diego, California for 29 years for an industrial gas turbine manufacturer in New Product Development until retiring in 2008. George spends his time photographing and documenting his travels.
Latest posts by George Escola (see all)