Update on Costa Rica
Update on Costa Rica adds our costs and overall thoughts, after time for reflection, on our stay for the month of August 2013 in the cabin in San Ramon.
Thoughts and Reflection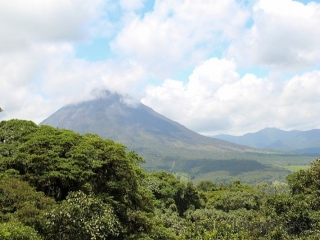 Our time in San Ramon Costa Rica was very nice on several fronts, Sandy was with us for the first two weeks, the weather was cool, and we went on several very enjoyable tours. We wrote about Las Cabinas here, Dona Ana Beach here, Arenal Hanging Bridges and Baldi Hot Springs here, and Downtown San Jose / Early Exit from Costa Rica here.
Costa Rica is a great place to live and retire. One of the things we learned while we were there is that a vehicle is needed unless one settles in or very close to town. We were about three miles from town, so spent a lot of time walking, and had to go to town by taxi or bus. A second lesson was that one really needs to speak Spanish in order to fully engage in the culture and to eliminate problems and confusion in routine dealings in the Latin American environment.
Our Costs in San Ramon
Sandy left for home on August 15th and we moved on to Nicaragua on the 21st, due to a shorter than expected visa. Rent was paid for the whole month. The rest of the costs were projected for a 30-day month.
| Expense | Totals | Expense | Totals |
| --- | --- | --- | --- |
| ATM Fees | $19 | Clothing | $0 |
| Computer/Internet | $0 | Dining Out | $725 |
| Groceries | $435 | Household | $0 |
| Mail Forwarding | $0 | Rent | $722 |
| Stamps/Postcards | $0 | Telephone | $0 |
| Tours | $776 | Wine & Beer | $0 |
| Personal Care | | Taxis | $22 |
| | | Grand Total | $2,699 |
Our monthly projected costs of $2,699 seemed high to us when we first saw them, but after reflection, maybe it is not so far off. There were three of us for 15 out of the projected 30-day month. If we reduce this period to two-thirds for dining, groceries, and tours, then the total projected monthly cost works out to be $2,482. This amount can be adjusted up or down depending on your comfort and affordability level. And, of course, one's expenses would be less with a longer lease and other economies of scale.
As before, we have not included transportation costs to get us here or to the next destination.  Nor have we apportioned annual costs pertaining to our life regardless of where we are, such as for U.S. health care, life insurance, etc.
The following two tabs change content below.
George grew up in the central San Joaquin Valley of California, and after high school, joined the US Navy. The Navy provided travel and education, including a degree from Purdue University. He left the Navy after 14 years to pursue other opportunities and worked in San Diego, California for 29 years for an industrial gas turbine manufacturer in New Product Development until retiring in 2008. George spends his time photographing and documenting his travels.
Latest posts by George Escola (see all)