Update on Panama
Update on Panama documents our costs and overall thoughts, after time for reflection, on our stay for the month of October 2013 in our apartment in Boquete. Our experiment in living better for less continued through the month.
Thoughts and Reflection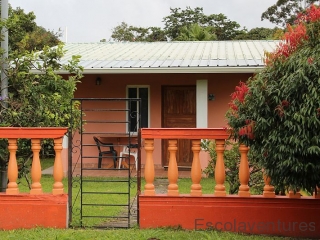 We enjoyed our time in Boquete, Panama very much. The cooler weather agreed with us. In spite of being there for the rainiest month of the year, we were only out in the rain a couple of times, and got completely soaked only once. There were first-class restaurants and stores in town, and expats are so numerous that Spanish was not a critical need.
Our apartment was small, but it was arranged in a way that made all of the space useful. Daylight and fresh air came through a window by the door and one over the bedroom, as well as through the door when it was open. The cool weather made air conditioning unnecessary.
Still, it could have been better. After we had been there for a few days, we saw an ad for a condo that was larger than our apartment, and had more facilities and amenities for just one hundred dollars more per month. We think the lesson here is to stay in a hotel for a few days when first arriving in a new place, then search for a longer-term dwelling. (During peak times, this approach might not work.) The best places are often not advertised on the internet, but are posted on a bulletin board or discovered by word of mouth.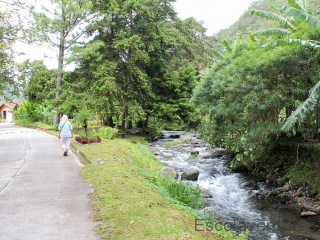 Life in Boquete offered many attractions. In addition, we went on some very enjoyable tours and trips. We wrote about Boquete Panama here, Boquete Panama Living here, David Panama Trip here, and Leaving Boquete Panama here.
Panama could be a great place to live and retire. Living in Boquete provides spring-like weather year-round, and puts one close to all the amenities of city life, and the expat community. A vehicle would not be needed unless one settled outside of town. We spent a lot of time walking, and during the month, we pretty well covered the city. Here, like other places in Latin America, the ability to speak Spanish would greatly enhance the cultural experience, and eliminate problems in conducting routine business.
Our Costs in Boquete
Since we spent the whole month in Boquete, all of the costs were actual for a 30-day month.
| Expense | Totals | Expense | Totals |
| --- | --- | --- | --- |
| | | Grand Total | $1,607 |
| ATM Fees | $28 | Clothing | $0 |
| Computer/Internet | $0 | Dining Out | $602 |
| Groceries | $416 | Household | $17 |
| Mail Forwarding | $21 | Rent | $400 |
| Stamps/Postcards | $0 | Telephone | $74 |
| Tours | $50 | Wine & Beer | $0 |
| Personal Care | | Taxis | $0 |
Our cost for the month was $1,607, which met our arbitrary goal of no more that $2,000. For another hundred dollars, or so, we could have rented a condo with more space and amenities that was closer to the center of town. Because of the small kitchen area in our apartment, and all the great nearby restaurants, we ate out more than usual. This increased our cost for the month. Of course, one's expenses would be less with a longer lease and other economies of scale for a longer stay. Costs for beer and wine were included in groceries. Wine in Boquete was available and low cost with good Chilean and Argentine wines from $6.00 per bottle. We believe that Boquete is a place where we could live better for less.
As before, we have not included transportation costs to get us here or to the next destination. Nor have we apportioned annual costs pertaining to our life regardless of where we are, such as for U.S. health care, life insurance, etc.
The following two tabs change content below.
George grew up in the central San Joaquin Valley of California, and after high school, joined the US Navy. The Navy provided travel and education, including a degree from Purdue University. He left the Navy after 14 years to pursue other opportunities and worked in San Diego, California for 29 years for an industrial gas turbine manufacturer in New Product Development until retiring in 2008. George spends his time photographing and documenting his travels.
Latest posts by George Escola (see all)