Visit to Granada Nicaragua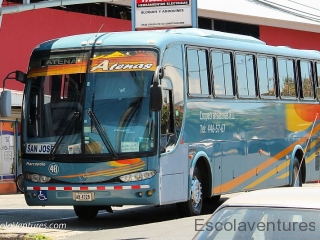 Visit to Granada Nicaragua describes our adventure on the bus to Granada Nicaragua from Atenas Costa Rica, and our week in Granada. We had visited Granada before in September 2013, when we spent the month in an apartment on Central America Street. The following posts are from that time: Granada Nicaragua, Masaya Nicaragua, Mombacho Volcano Nicaragua, and Update on Nicaragua. This time, the trip was intended to reconnect with a great Colonial city and the friends we made while there.
Visit to Granada, Nicaragua
Our Central Lines bus glided through the rain forest; miles and miles of winding roads as trees swept by on both sides. Only occasionally, did we pass through a town here and a village there. We caught the bus in San Jose, after an hour-long bus ride from Atenas, and a six-block walk. Our property manager, Diane, went with us to help us buy our tickets and get on the right bus to Nicaragua. Our bus was air conditioned, had comfortable seats, and an on-board restroom.
From San Jose, we followed the Pan-American Highway north. For a brief time, we could see the Gulf of Nicoya after passing Puntarenas. At the border, we paid our exit tax from Costa Rica, then rode on the bus to the Nicaraguan immigration and customs area. Here, our suitcases were physically inspected before our stamped passports were handed back to us. Back on the bus, we continued on past more countryside, and Lake Nicaragua with Ometepe Island in the distance. A quick taxi ride from the bus stop in Granada took us to Casa Rosa. We were met by Melanie, a young lady from Boston, who was doing a three-month stint as Yoga Instructor at a nearby hotel, Casa Lucia.
Casa Rosa's front door opened into a large open space, which included the living room, kitchen, dining room, and the traditional courtyard. On each side of the courtyard was seating areas, and behind were the bedrooms, one of which was ours for the week. Our room included a full bath. As she helped us get settled, Melanie explained that the manager, Greg, who manages Casa Lucia, as well, was on travel and would return on Friday. After our eight-hour bus ride, we were famished, so we dropped our suitcases in our room, and headed down the street to The Garden Cafe for dinner.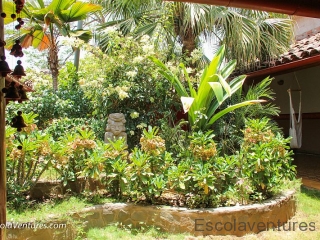 We met Darrell Bushnell at The Garden Cafe one day for lunch. Darrell writes the newsletter, Nica Nuggets where we saw the ad for Casa Rosa several editions ago. When we visited Granada in 2013, we had lunch with Darrell and his wife, Amy. Unfortunately, Amy was on a US visit, so we didn't see her this time. Great conversation over lunch. Darrell is one of the most knowledgeable and well-connected expats in Granada, Always interesting to get his take on what's going on in the area. We ran into Darrell again the next day when we were on our way to the grocery store and he was having his car serviced.
Several mornings, when we didn't eat at Casa Rosa, we ate at Kathy's Waffle House. Good American-style fare at reasonable prices. One day for lunch we went to the cafe that is just around the corner from the apartment we stayed in before. At a corner table on the patio were several of the same expats we had met there eighteen months before, and they were still chatting and drinking beer!
One evening, we had a delightful dinner at Bistro Estrada. At 6 pm, we were the only diners in the courtyard. Two other tables joined us by 6:30. Another evening we dined at El Zaguan, where they feature the best beef dining in town. Still another night we satisfied our taste for pizza at at a cafe just off La Calzada Street. We also tried some new places with mostly good results. Plenty of good places to eat in Granada.
City Tour by Carriage
Granada is known for its horse-drawn carriages. They line up next to the central square, and offer tours and taxi rides throughout the city. Jan said that if she had a bucket list, a horse-drawn carriage ride would be on it. We chose the City Tour for $20.00. It covers most of the city and takes 45 to 60 minutes. We headed north to the old train station and east to the lake, then to the fort (Fortaleza La Polvora, built in 1748) in the west, and finally, through some of the colorful casaas in the south. Our driver and tour guide pointed out landmarks and talked about the history of Granada and Nicaragua as we went along. We went by homes of some of Nicaragua's wealthiest families. We saw four of the city's magnificent church buildings, as well, and viewed the wide variety of brightly colored houses with their wonderful wood-crafted doors. This tour is a great way to get an overview of the city.
Our week in Granada passed quickly, and while the bus trip back was even longer, with a lot more stops, it was a very nice adventure, one that we will probably do again in the future.
The following two tabs change content below.
George grew up in the central San Joaquin Valley of California, and after high school, joined the US Navy. The Navy provided travel and education, including a degree from Purdue University. He left the Navy after 14 years to pursue other opportunities and worked in San Diego, California for 29 years for an industrial gas turbine manufacturer in New Product Development until retiring in 2008. George spends his time photographing and documenting his travels.
Latest posts by George Escola (see all)